SKU: CR0040SI
Cotton Reels (Offset) for Aprilia RS4 125
£55.99
These new style offset cotton reels are a cross between our traditional style cotton reels and our spindle sliders. Suitable for the Aprilia RS4 125 (2011) models.
This product also has the ability to have an R&G toe guard (not included) installed onto it.
Product Description
Are they cotton reels or spindle sliders? Well they are both really!! The Cotton Reel is mounted to a special, clear-anodised stainless steel bracket (included with the kit). The product will give protection to the swingarm area in most crashes. Also the bike can be lifted on the Cotton Reels, using a paddock stand with hooks (suggest R&G code SH0001). These cotton reels specifically designed to fit the Aprilia RS4 125 (2011-) also have the ability to be fitted with a toe guard thanks to a bracket already present on the cotton reel bracket. An R&G Toe Guard (not included) can be install into this product with no modification to the swingarm required, it simply screws into the bottom of the cotton reel bracket.
Additional information
Product Summary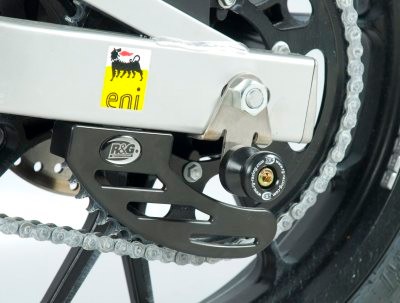 Cotton Reels (Offset) for Aprilia RS4 125
£55.99